A reflection of a shared love for handmade, UPcycling, music and jewels.
Secondline is a representation of her southern roots, her second line of handmade jewelry and the second life of broken drum cymbals. All growing from a gift her husband made her with a piece from a broken drum cymbal. It seems he may have inspired that niche she was searching for. I recall her journey clearly, she would often get discouraged with faint spells of wanting to give up but like most natural born creative types she could not stop creating. It's just the nature of creativity and inspiration. A special little life lesson, through love and perseverance greatness can be attained.
In her own words taken from
here
and said so well.
"SECOND LINE JEWELS was born on the bayou of south Louisiana when a multi talented musician
stepped into his wife's world of jewelry design, and made her a necklace using one of his broken drum cymbals. This gift inspired a whole line of accessories combining the couple's love of music and jewels. Second line is mostly created using chunks of upcycled brass drum cymbals along with other metals, including salvaged copper, sterling silver, and gold. Accents of precious/semi precious stones, vintage treasures, and random oddities are thrown in for an overall look that just rocks. Hard."
Roz's father and hubby are both percussionist, an art she has been exposed to since she was a little girl. She is thrilled to have found a place for these heavy metals in her work. Her collection is evolving and developing one piece at a time into something uniquely beautiful. An expression of her own rhythm, consisting of what used to beat to a different drum.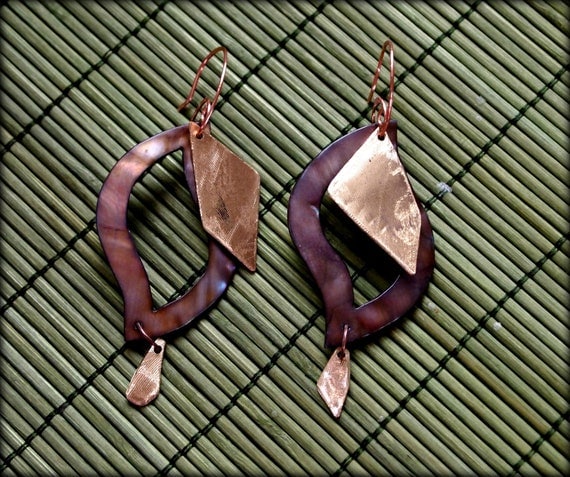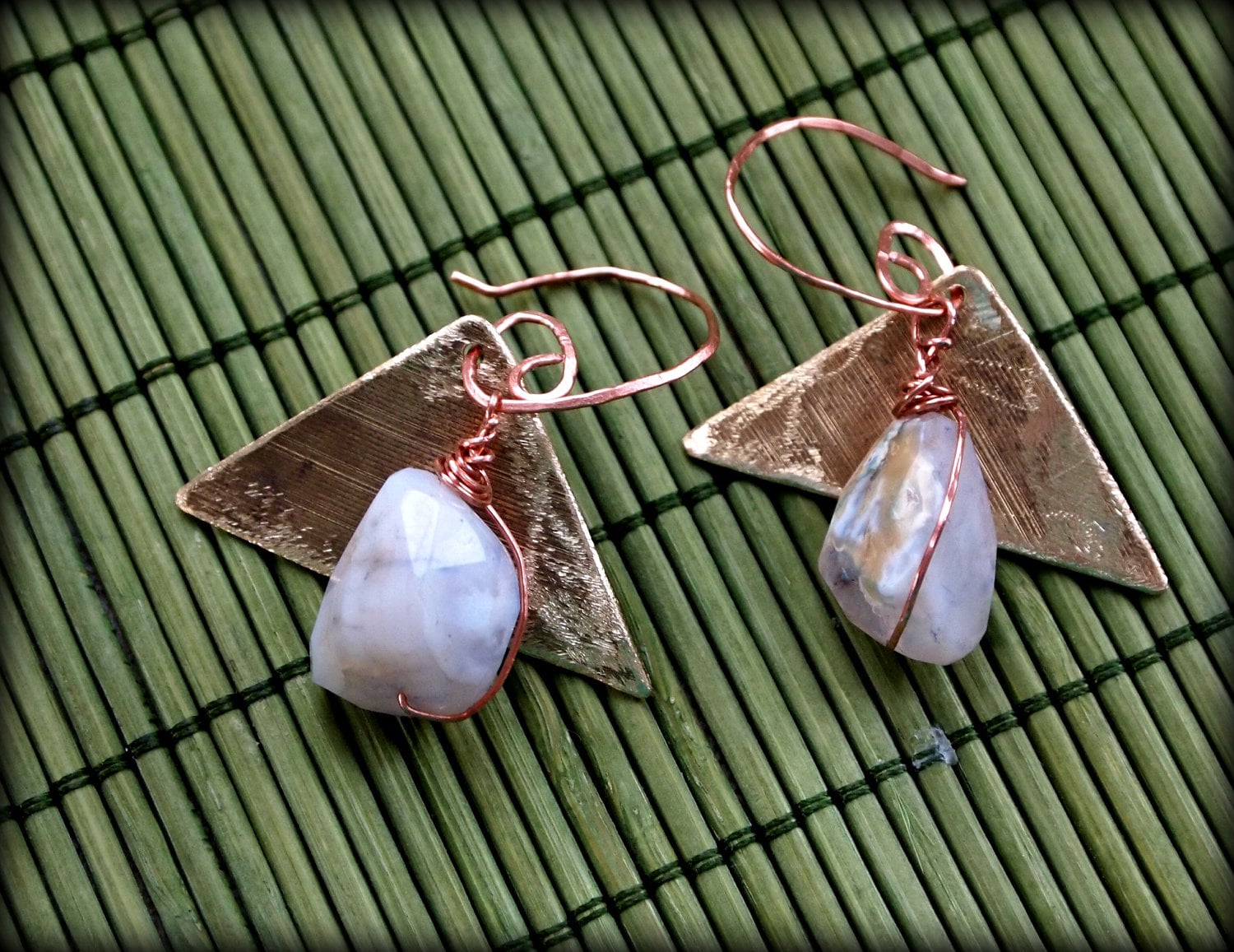 To upcycle and reuse is a part of her families everyday life and this is clear before you even walk through the door of their gypsy fenced yard. A stones throw from downtown Lafayette is where Roz lives with her young family and where she creates her jewels of interest. Beautifully selected natural stone, an assortment of vintage treasures along with with hand cut, shaped, filed, sanded and drilled drum cymbals combine to make her one of kind collection of
Secondline Jewels
.
What would be your ideal way to spend your day?
sleep in, yoga, healthy lunch , make jewels, dinner with the fam, hot bath in the claw foot, a little DIY tv, early bedtime
What is your favorite thing about being a maker?
I can create whatever I want for others to enjoy and keep my most favorite pieces for myself.. as
advertisement , of course!
What inspires you?
Pictures are very inspirational... if I feel a connection to it I try to create my version of that image,
whether it be a piece of jewelry or a style of clothing, so I can have it for myself. I also love mixing shiny and earthy elements together- it feels necessary to achieve a balance of the two. I love rocks and stones.. I am amazed at what beauty lies in our earth.
What has been your biggest challenge along your creative journey? And your greatest joy?
MY BIGGEST CHALLENGE has been to find the time to create! I have 3 children now:
one in high school, one just starting school, and an infant. I think the inconsistency of
creating has been the culprit in whats taken so long for me to finally find my 'niche' in this business.
MY BIGGEST JOY is to look back and see how far I've evolved, style wise, at what I do. ..and I'm so excited about everything I have yet to learn, as well!
What advice have you learned along your way that has made a big impression on you, that you hold dear?
a wise girl once told me:
'ITS ALL BEEN DONE BEFORE.. THERE IS NO . NEW CONCEPT- JUST OUR OWN UNIQUE VERSION OF ART.' Somehow that took this huge pressure off of me and reminded me that the wheel has already been created, I just have to create my interpretation of it to be able to ride! It helped me to stop constantly comparing my work to others'. I believe her advice applies to all modalities of art. I think it's important to impress this concept on kids , especially, so they can grow up being less critical of themselves and more accepting of their own and others' creation
s.
Where would you like to see yourself creatively in the next year or two?
In the very near future, like ASAP, my goal is to quit my day job and work at home. raising my babies. Where a mother belongs. as long as I can remember, I'
ve longed for a creative niche. I've explored many
styles and modalities of crafting, trying to bring it all
together in one line that I can market and earn a decent
living from. To have my passion feed me mentally, spiritually,
and physically is my idea of the American dream. but no matter what, I want my kids to see me practice what I love everyday so they know it's an important thing to do.

What do you admire most about being a southern gal? If you could live anywhere else where would you go?
Being a southern gal is almost an indescribable feeling to me. It's like being part of the coolest club ever! It gives me license to be charming and sweet yet hard core all at the same time. A tough cookie in a big grand vintage dress with cowboy boots on:) If I could live anywhere it would be right here except add clear watering holes( I can't relax in muddy water)and more outdoor activities that don't require a boat. Honestly, I think I was born in the south for a reason. The strong sense of family that we are raised with here is such a blessing- one that I want to give to my children. I love adventures, but I know my where my heart lives.
...and she thinks she's not that interesting! I believe she is in fact.
A wife, mother of 3, massage therapist and a maker. She doesn't have much free time but for the most part thats how she likes it. She likes having things to do and like me she likes getting things done. Maybe our strong bond has something to do with that or the fact that her middle and my eldest are only a year apart while her hubby is one of my oldest, best'est', closest friends ever. Also she introduced my hubby and I. Set us up even. For months preceding our meeting she would tell me "there is someone you need to meet I think he is your soulmate" and she would tell him the same thing. Both of us had newly healing hearts from failed relationships and would respond the same way 'please, I am not interested'. Funny enough it only took one meeting and we both had instant crushes, a year later we were married and now 4 years later we are happy and thriving. I guess I should add matchmaker as a word to describe her.
Rozalyn Galyean. An eclectic spirit who does things her own way. She is determined and overtly creative. A prime example of following your path steadfastly. No matter how rocky or bumpy, stay true to yourself and your passion with your eyes and heart open to the inspiration that surrounds you. Do not let the challenges discourage you. Let your dreams prevail. Keep creating!
You can visit her online at
gypsyrig.com
and her newest creative endeavor
SecondlineJewels.com
. She was mentioned before right
here
on SSS and she is 1/4 of
boho mercantile
.